Excellent
3079 reviews on

At NewDay USA, we proudly stand beside America's Veterans—no matter what.
You earned and deserve your valuable VA Benefits. Our dedicated financial teams will help you get the most out of your VA home loan benefits.
Get Cash Out
Borrow up to 100% of your home's value, including the mortgage balance.
NewDay 100 VA Loan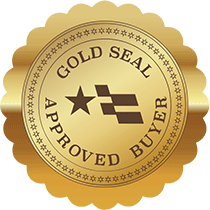 Admiral's Advice
Our decorated Executive Chairman, Rear Admiral Thomas C. Lynch, USN (Retired) understands the wants, needs and dreams of Veterans better than anyone else, and he understands the value of your VA home loan benefit.
Learn more
The NewDay Five
Meet our top retired senior enlisted leaders from each of the five Armed Forces Branches.
Meet the NewDay 5
Excellent
3079 reviews on

America's Veterans put their trust in NewDay USA.
"My agent Anthony was very responsive. Always followed up with my questions, even after hours. Was a very easy process and quicker then I expected. I would recommend to other..."
Daniel T.
"We had some extenuating problems to overcome our go to guy at New Day , Kevin O' Tool , managed and advised us to completion."
Richard W.
"I think Eugene Davis so much for helping my wife and I to refinance this loan on our house. With our credit score being 591 I didn't think it could be done. We never miss a..."
Willie G.
We're committed to improving the lives of Veterans.
$13B

loaned nationwide to homeowners who benefited from a VA home loan.

51,387

Number of Veteran Families served since 2009

5%

of our pre-tax earnings go to our NewDay Foundation, where we give back to our Veterans
#NewDayUSA celebrates successful joint missions with our customers.